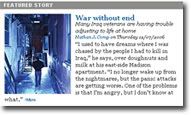 Reporter Nathan Comp of Madison's excellent Isthmus paper delivers a comprehensive piece on how local vets are transitioning back to life at home and dealing with the VA. Latest combat PTSD stats, too.

Comp also makes note of the work that ePluribus Media and I have been doing on the PTSD Timeline -- work difficult to cheer, but that we are pleased to see being used to inform others.

Hard to choose which grafs to highlight; here are a few:


Slowly, very slowly, Thomas Staskal is coming to grips with things he saw and did in Iraq. He is depressed, anxiety-prone and has an acute fear of crowds. Since returning home to the Green Bay area in November 2005, the 25-year-old Army reservist has lost three jobs and flunked out of college. Common things, like a flash of lightning, can induce the shakes.

"I used to have dreams where I was chased by the people I had to kill in Iraq," he says, over doughnuts and milk at his east-side Madison apartment. "I no longer wake up from the nightmares, but the panic attacks are getting worse. One of the problems is that I'm angry, but I don't know at what."

Rarely is a soldier's return seamless, but for battle-weary vets like Staskal, post-traumatic stress disorder can crash their landing in the civilian world. ... Staskal and his girlfriend moved to Madison in August, just before the start of the new school year. When he tried enrolling at the local VA hospital, he learned that transferring his file from Appleton would take 30 days. After that, he'd be put on the waiting list. Meanwhile, time was running out on the two years of VA benefits that reservists are given.

"If you are on active duty, there's a lot more help," says Staskal. "The reservists get shafted. I don't function 100% and the Army should help me, but they're not. You can't just use us then leave us out to dry, which seems to be what's happening."
High recommendation to
read
the whole piece. Thx, Nathan.
Want to stay connected? You can subscribe to PTSD Combat via Feedburner or follow Ilona on Twitter.