NPR broadcasts the findings of a 6-month investigation into charges that troops at Fort Carson, Colo., are being intimidated, stigmatized -- and worse -- if they say they have PTSD:


Dec. 4 · An NPR investigation at a major Army base shows that soldiers who return from Iraq with serious emotional trauma often do not receive needed care, and some are kicked out of the Army.
Click on 'Article Link' below tags for more...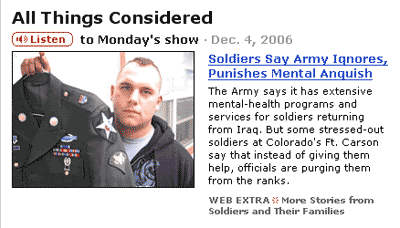 More on Fort Carson's problems via an earlier investigation conducted by the Colorado Springs Independent and CBS News.

Please help us track OEF/OIF combat-related PTSD incidents in ePluribus Media's PTSD Timeline.



UPDATE 12-05-06:

Read post-show comments.




&nbsp

Related Posts




Want to stay connected? You can subscribe to PTSD Combat via Feedburner or follow Ilona on Twitter.