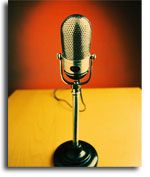 I'll make my first "About Face" appearance tonight. Excited, because we had such a great time taping it last week; I'm anxious to hear it again myself, with an ear towards making a note of anything I forgot to say clearly (I already have a few of those on my list...). I'll have a chance to answer questions and clarify tomorrow morning when I join the "About Face" gang again for a live call-in wrap-up show.

From the Progressive Radio Network website:

3 PM PST/6 PM EST

About Face with Dennis Stout



Post Traumatic Stress Disorder


This edition of About Face addresses post traumatic stress disorder (PTSD) that affects many veterans after returning from combat. Guests Ilona Meagher, editor of the weblog PTSD Combat, Dr. Robert Roerich, vice-president of the National Gulf War Resources Center, and Kay Shepherd of ePluribus Media discuss the nature of PTSD, how it affects veterans and their families and what can be done to assist in dealing with the problems PTSD causes.
December 16, 2006
Tonight:
December 16, 2006

Streaming
at 3:00 pm PST/6:00 pm EST.
Or
archived here
sometime after broadcast.

Tomorrow:
December 17, 2006
Streaming
at 11:00 am MST/1:00 pm EST.
Call-in:
In-Studio : 602-258-8800 - Toll Free : 800-989-1480
Thx 'Doc' Roerich, Kay, Dennis, Mark, and John.
Want to stay connected? You can subscribe to PTSD Combat via Feedburner or follow Ilona on Twitter.