I got a call yesterday from Reese Butler, founder of the 1-800-SUICIDE Hopeline. (Thank you to Taylor Marsh, author of Suicide Hotline Shutdown, for asking him to contact me). Some of you may remember (as many of you helped) the story of the impending take-over of 1-800-SUICIDE. Also called Hopeline, it came into being 8 years ago and was supported by the late Sen. Paul Wellstone. Click on 'Article Link' below tags for more...

Hopeline, founded by Reese Butler (whose wife had committed suicide -- the center bears her name), has become the largest, most successful confidential suicide hotline around. The Kristin Brooks Help Center [KBHC] takes over 1,000 calls per day. Unfortunately, due to funding difficulties and a dispute with the government, it was in danger of being consumed by the Department of Health and Human Services Substance Abuse and Mental Health Services [SAMHSA]. Our efforts helped to win a feel-good victory, a 2-week reprieve.

We are now in the final week, and I wanted to let you know that our help had, well, helped. Here's what Mr. Butler had to say.

Interest from Big Donors Increased
Mr. Butler says, due to all of the press, that Hopeline did hear from some major funders. Nothing is a done deal yet; but, they have had enquiries from people who are in a position to really help Hopeline recover and succeed into the future. Let's hope this becomes a reality...

Grant Writer on Board
Hopeline received a big boost from one important woman: a grant writer who dropped everything she was working on and is now helping Hopeline to find the funding they need.

Annual Take Action Tour
This tour is a yearly source of a large portion of funds for the center. Due to the increased press, interest in the Take Action Tour has also increased. Usually, the venues for this tour are booked at 500 seaters. Plans are now to book 1,500-3,000 venues, which should double the proceeds to the Center.

A few details:

The Take Action! Tour and the annual compilation CD aim to raise money and awareness for teen suicide prevention by directly benefiting the Kristin Brooks Hope Center--founders of the Youth America Hotline! (YAH!). Since 2001 Sub City Records has raised nearly $230,000 to benefit teen suicide prevention.

The Youth America Hotline! (Yah!) was founded by the Kristen Brooks Hope Center to help teens through peer-to-peer counseling, pairing teens in need with qualified teen counselors.
Major Stylist to the Stars Will Host Benefit
A major stylist to the stars (he asked that I not give his name) is holding a benefit in October at a fancy new restaurant down in Miami. There will be a runway fashion show, art exhibit, and food galore to benefit Hopeline. Hopes are this will bring in a nice donation.

Vets4Vets Partnership
With the help of Vets4Vets, the Hopeline has been working on providing more personalized forms of help for those calling in. For example, plans are underway to create a Returning Soldiers line to help a combat vet who may call in needing some help. He or she would be connected to someone on the other end who was a veteran him/herself or who is trained specifically to speak about their issues. You know I like the sound of that...

Also, Mr. Butler mentioned the documentary The Ground Truth at this point, and my notes and memory aren't serving me well at the moment. I don't know what the connection is -- but rent it today! :o)

Making Technology Work for Them
Hopeline has been a great user of technology to improve their services and products. They have been presented with new opportunities in reselling and licensing what they've created, which should bring in additional funds.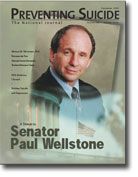 Etc...

Download a pdf copy of the December 2002 issue featuring moving tributes to Sen. Paul Wellstone and his wife Sheila. Although it looks like this important magazine resource is no longer in print, Preventing Suicide back issues are available.

For vets, you might be interested in looking at the February 2004 issue containing a report on an impressive Air Force suicide prevention program.

Want to stay connected? You can subscribe to PTSD Combat via Feedburner or follow Ilona on Twitter.