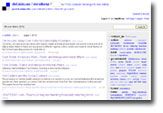 Things are a bit less 'busy' around here as I continue the research and writing of my book this summer. Updates may be sporadic; but, even if it's quiet on the front page, things are happening in the background. If you're interested in what I'm digging up, visit my Del.icio.us page to see what I've recently indexed and saved. You'll find a wealth of PTSD information on that page, btw, all tagged and sorted to make it easy for you to do your own research, too.

Click on 'Article Link' below tags for related posts...


Want to stay connected? You can subscribe to PTSD Combat via Feedburner or follow Ilona on Twitter.