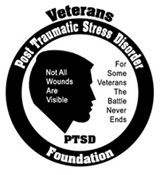 If you're in the western Iowa area, you might want to check out the First Annual PTSD Awareness Ride slated to take place June 16-18. All proceeds from the event will go to help local veterans coping with PTSD. Registration details and a schedule of events can be found at the Veterans Post Traumatic Stress Disorder Foundation website. Then take a look at the coverage given the event and its organizers in Council Bluffs' Daily Nonpareil.

Click on 'Article Link' below tags for more...

From the Daily Nonpareil:


Imagine not being able to fall asleep as you lay in bed at night for five hours or more. Envision yourself going berserk at the mall because you cannot handle the large crowds of people. Lastly, visualize yourself experiencing the horrific tragedy of having no choice but to kill people, over and over again.

Incidents that most people would never wish upon their worst enemy are things that Keith Callaway endures more often than he'd like to admit. The Vietnam Air Force veteran suffers from military-related Post Traumatic Stress Disorder, which is also known as "battle fatigue" or "shell shock."

While PTSD can also result from experiencing terrorist incidents, traffic accidents, violent criminal attacks or natural disasters, military-related symptoms that result from terrifying and gruesome acts of violence are the most common and well-known form of PTSD.

"We've seen things no one should see," said Dave Kittle, a military veteran and member of the Western Iowa American Legion Riders in Glenwood. "We've seen our brothers mutilated, a best friend get blown up, the after affects of a napalm run and a lot of innocent people being shot and killed. We, as Americans and soldiers, suffer from PTSD because we have a conscience. Stuff like that bothers us."

Callaway, just like another Vietnam veteran whose story was recently reported in the news, is dealing with PTSD symptoms that have only recently increased in their intensity.


Veterans who suffer from PTSD often relive their traumas through nightmares and flashbacks years later. Callaway is one of those veterans. "The flashbacks started about three or four years ago when Keith would think he was back in the Philippines," said Karen Callaway, Keith's wife. "He sees something, but we don't know what he sees."

One of the incidents occurred while Keith was driving home at night. "He was actually fighting them in the vehicle," Karen said, recalling the experience. "It's very traumatic when a daughter asks what her father's doing in the vehicle." Karen had to pry Keith's hands off the steering wheel to get him to come out of it.

"You don't really snap out of it; it's almost like coming out of a deep sleep," Keith said of the episodes. "You feel very depressed and naturally embarrassed afterwards."

The topic of repressed memory is also covered briefly.

Countless veterans suffer from the disorder, especially after having served in combat areas for prolonged periods of time. "The military requires intense training. For it to be effective you have to react without thinking, which causes repressed memories and problems with PTSD," Callaway explained.

"With a repressed memory, you want to know what happened on the one side, but the other side doesn't want to face it," Kittle added.

PTSD can be on the surface or lay dormant for many years, making itself known in devastating ways, such as domestic violence, severe depression, substance abuse or suicide. Because Kittle and Callaway know firsthand just what such a destructive disorder can do to a veteran, together with the Western Iowa chapter of the American Legion Riders, they are starting a PTSD foundation. The pair of military veterans wants to let veterans of all eras know that help is available to them.

"The troops coming home today are our biggest concern," Kittle said. "We don't want our boys fighting these demons for the rest of their lives, because it destroys people. Nobody's ever coming back the same."

According to Kittle 11 to 18 percent of the veterans of the War on Terror have PTSD, with 30 percent developing stress-related mental health problems because of it. Part of the reason the American Legion Riders are starting the foundation is because the tools to cope with PTSD weren't available to them. "Part of the problem comes from people who think, 'Why don't you just get over it?'" Kittle said. "Military veterans never get over it; it will be with them for the rest of their lives."

"Nobody explains it to you," Callaway said. "You think you're losing your mind, and your family thinks so, too."

The Western Iowa American Legion Riders hope to make a difference in their local community, to help those new veterans returning home from combat get the care they need.


PTSD is treated by a variety of forms of psychotherapy and drug therapy. There is no definitive treatment, but exposure therapy in which patients repeatedly relive the frightening experience under controlled conditions to help them work through the trauma seems to be quite promising. The Western Iowa American Legion Riders are hoping their PTSD foundation will be another place that veterans can turn to for help.

The ALR is also hosting a three-day PTSD awareness rally in conjunction with a poker run June 16-18 at the Mid-America Motorplex near Glenwood in order to get the word out about PTSD. One hundred percent of the profits will be returned to the vets. The group is hoping to make it an annual event.

"If we can get people to start looking at what these troops are going through, and what the future holds, we can get families aware," Callaway said. "We want to bring this terrible thing out of the closet and to the forefront of everyone's mind."

Registration details and a schedule of events can be found at the Veterans Post Traumatic Stress Disorder Foundation website. And please consider thanking the Daily Nonpareil for their informative article and spreading the word on this weekend's event.

Want to stay connected? You can subscribe to PTSD Combat via Feedburner or follow Ilona on Twitter.