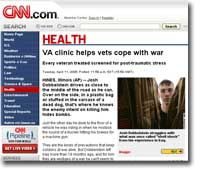 More signs that the national media is finally waking from its PTSD slumber. CNN carried a piece this week showcasing a unique PTSD screening program and clinic currently offered at Hines VA Hospital in the Chicago area. "Every veteran who comes in for treatment, no matter the reason, is checked out for post-traumatic stress disorder. And they all have access both to individual therapy and a support group with fellow veterans."

Click on 'Article Link' below tags for more...

From CNN Health:


Josh Dobbelstein drives as close to the middle of the road as he can. Over on the side, in a plastic bag or stuffed in the carcass of a dead dog, that's where he knows the enemy intent on killing him hides bombs. Just the other day he dove to the floor of a vehicle he was riding in when he mistook the sound of a trucker hitting his brakes for a machine gun.

They are the kinds of precautions that keep soldiers at war alive. But Dobbelstein left Iraq more than 16 months ago, and for him they are vestiges of a war he can't seem to shake. He's trying, though. The 23-year-old is getting help from a clinic at Hines VA Hospital just outside Chicago set up to help veterans of Iraq and Afghanistan with post-traumatic stress disorder. ...

Dr. Chirag Raval, a psychiatrist at Hines...has treated about 150 veterans at the clinic he established after serving three months in Iraq. The effort [to screen every patient for PTSD, no matter what they initially come in for], which Hines officials say is unlike any in the nation, is evidence that VA hospitals and military leaders are finding new ways to locate and help veterans returning Iraq in Afghanistan.

In Florida, for example, the Pensacola Naval Hospital has placed advertisements in civilian newspaper to make families -- not just veterans themselves -- aware of its counseling program. Navy hospitals are also reaching families through a series of online videos about post-traumatic stress syndrome. "They are a different breed and they need to be handled differently," Raval said of the Iraq and Afghanistan veterans.

A cornerstone of the treatment is the recognition that while these veterans share experiences familiar to anyone who has seen combat, their war was different. "You never really knew the enemy," said Dobbelstein, whose job included scouring roadways for explosive devices. "It could be the guy standing next to you who detonated the bomb, for all you knew."

That meant never dropping your guard. "It's like you're driving down the highway, and you're like, 'Just let me see it, let me see it, don't let me miss something that could get us killed,"' Dobbelstein said.

It becomes obvious, as you read this article, that having a doctor who's served in Iraq on the rolls offers a great benefit to its patients. Dr. Raval punctuates the fact of no one -- in or out of a combat role -- in Iraq is ever safe: the psychiatrist he went to replace had been injured by a mortar.


One recent study found a third of U.S. soldiers who served in Iraq the first year of the war later sought mental health treatment -- a statistic that suggests thousands of veterans might need help.

The Department of Veterans Affairs says it is stepping up its efforts to offer psychological help -- pointing out that besides readjustment counseling at more than 200 community-based Vet Centers established after Vietnam, 44 Returning Veterans Outreach and Care programs were established last year and more than 40 more are scheduled to open.

But there is concern that many of today's veterans aren't getting the help they need. One reason is that they aren't asking for it out of fear they could derail their military careers. "A lot of guys, they see it as a nick in their armor: 'If want to do 20 (years) or more, I don't want to be seen as a nut case,"' said Capt. Jeffrey Weyeneth, a psychiatrist at Pensacola Naval Hospital, who estimates that continued counseling programs reach only about a tenth of the troops returning from Iraq and Afghanistan.

Steve Robinson, director of the National Gulf War [Resource] Center, a veterans advocacy group, says the bigger problem is that there aren't enough places for veterans to get help. As a result, Robinson said it's unclear how many veterans didn't get help because it wasn't available when they asked for it.

One soldier who'd gone to Hines before the new program's start says that the help he was offered at the time (pills that knocked him out for 12 hours) wasn't what he wanted -- or needed.


"I didn't want that," said Adams. "I wanted a group of other veterans I could talk to or maybe a military doctor who was there (Iraq) who can help me out or something."

Such stories are even more significant in light of what Dobbelstein's life has been like since going to Hines. "I still have flashbacks but they're more manageable," he said. "I don't feel as turbulent any more. I don't sleep with weapons now. "I lock my doors, but I don't barricade them."

Further evidence for how far the VA generally and Hines Hospital specifically have come in helping our returning veterans shows up in a sister piece carried in this weekend's Rockford Register Star (Rockford is approx. 75 miles west of Chicago):


When 23-year-old Michael Torok returned home to DeKalb County in September 2004 after serving in the U.S. Army in Afghanistan, he had more health issues than anyone had suspected.

Michael's father, Roland, recalled recently that his son visited a veterans hospital Sept. 4 in Chicago. "He had back pains and blood in his urine," the elder Torok said.

Michael's mother, Barbara, said the hospital did not screen Michael for post-traumatic stress disorder or for suicidal tendencies. The oversight, her husband speculates, might have been attributable to — but not ex-cused by — the fact that it was Labor Day weekend. The next day, Michael left his Kingston home ostensibly to visit a friend in Shabbona in southern DeKalb County.

He never got there.

A 19-day search for Michael uncovered evidence that he had used a credit card at a Menards store in Cherry Valley and that a call to his cell phone had been picked up by a Verizon tower near Illinois 72.

On Sept. 24, Michael was found dead in his pickup truck in a rural area of Ogle County near Monroe Center, the victim of a self-inflicted stab wound. His parents were left to wonder whether his suicide might have been prevented by the kind of outreach and therapy options that have since been adopted at veterans hospitals.

At Hines VA Hospital near Chicago, all patients are now checked for PTSD, no matter how minor the other ailments for which they are seeking treatment. "They should have been doing that a long time ago," Roland said. "That should have been going on ever since the war (in Afghanistan and Iraq) started. They should have been doing it in Vietnam, too."

Nick Parnello, a Rockford-area Vietnam veteran and co-founder of VietNow, a national veterans organization, says the VA wasn't prepared for the psychological problems of that era's veteran.


"The hospitals weren't prepared for it," Parnello said. "We had guys who were all screwed up because of what they had seen or what they had done. We had thousands of guys committing suicide."

Parnello said VietNow...began organizing informal discussions among combat veterans about 25 years ago. "The worst cases," he said, "usually were with guys who wanted to bury their pain. It was just too much for them to deal with. But when we got them talking and listening with their brother vets, they usually were able to begin to heal."

He recalled the case of one vet who was ashamed for years afterward for having been frozen with fear in a combat situation. "His outfit was under fire, and he just laid there with his machine gun and didn't move," said Parnello. "He felt so guilty about the fact that he had been afraid. But when he talked to other vets in one of our groups, he got better."

Parnello said some of the people coming home from military duty in Iraq and Afghanistan are facing psychological problems unique to the conflicts in which they've participated. "Every war is different," he said, "and the problems the veterans face are different."

Please thank CNN and the Rockford Register Star for their PTSD coverage. Then contact your elected officials, letting them know you support real, tangible efforts to care for our troops as they return home to us.




Related

Listen to a recent interview given to the Chicago Tribune by Hines Hospital's PTSD program director.

Want to stay connected? You can subscribe to PTSD Combat via Feedburner or follow Ilona on Twitter.