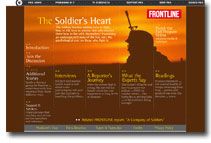 A tip of the hat to mbair at Daily Kos for suggesting a link to PBS' Frontline episode on PTSD.

Frontline: The Soldier's Heart examines the experience of war. Visit the website to:


watch the entire program online

learn more about the psychological cost of war

find out what the experts have to say about PTSD

join in and discuss the program

get additional support information
Want to stay connected? You can subscribe to PTSD Combat via Feedburner or follow Ilona on Twitter.