From NPR's Day to Day program:

A new, high-tech system designed to treat military veterans suffering from Post-Traumatic Stress Disorder -- or PTSD -- may be familiar to fans of a squad-based combat video game. Using components from the popular game Full Spectrum Warrior,

psychologist Skip Rizzo and his colleagues have fashioned a "virtual" world that simulates the sources of combat stress

. …

The soldier being treated wears VR goggles and headphones. Using a tablet-based interface,

a therapist can activate or remove the sounds of gunshots or the sight of smoke, depending on a patient's reaction

. The idea is to re-introduce the patients to the experiences that triggered the trauma, gradually, until the memory no longer incapacitates them.
Click on 'Article Link' below tags for more...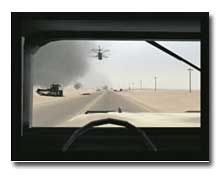 Virtual reality therapy aims to desensitize the combat veteran from traumatic experiences they may still carry around with them once home. Tailored to a generation used to playing video games, this novel form of therapy seems to lesson the stigma and fear associated with asking for help. A clip of this 'video game' therapy is at the NPR page.


Click on

VIDEO: See What a Soldier Experiences in a Virtual PTSD Therapy Session

. Go…



Related Posts
Want to stay connected? You can subscribe to PTSD Combat via Feedburner or follow Ilona on Twitter.